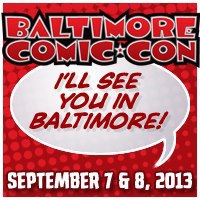 When you step back and compare Baltimore to other conventions, it's hard to call it anything but rather excellent.  Baltimore Comic Con is that perfect established mid sized convention where the emphasis is absolutely on comics.  There are no media guests, only comic creators.  Sure, you can still see costumes wandering around the convention of all the usual fandom suspects (I have a list of costumes you'll see at every convention) but this is still a comic book show.
This was (surprisingly) my first year attending Baltimore Comic Con even though it's my "local" con but it absolutely left me with a positive feeling and a desire to return again next year.  I absolutely recommend it for any interested geeks but especially those who want to see a comic focused show.
That's the short version.  The long version can be found after the jump.
Don't let anyone try and tell you that the geek community in Maryland is nonexistent because the lines to get into the convention were already out the door and around the block by the time I arrived at 10:30 Saturday morning; a mere half an hour after the show opened.  Once inside, the dealer's room/artist alley was already in full swing.  Obviously, comics were readily available whether you were looking for this week's issues or trades to catch up on series or those rarer single issues to try and complete your collection.  Some of the shops even had sections that specifically featured books by creators who were present at the show.  If you were willing to spend the time, some real gems could be found in those long boxes.
If you weren't looking to weigh down your bag with trades and hardcovers, it was easy to find other vendors to purchase from whether you were looking for action figures or t-shirts, or something small and cuddly.
The real highlight of the show, however, was the lovely array of artists and guests throughout the hall.  One of the best differences between a show that's a media circus and a show that focuses purely on comics is the atmosphere.  If you wait patiently, you can chat briefly with Jim Cheung about his work on Young Avengers or with Mark Waid about his runs on Daredevil and Hulk without a handler bustling you away after your ten seconds.  (Not, of course, that you can expect to monopolize their time but you can have a brief conversation.)  You can get your comics signed or purchase a print or, if you're lucky enough to have the cash, purchase an original artwork page.  It's a wonderfully relaxed atmosphere.  And there are plenty of creators around the hall who might not be comic household names but whose work was absolutely worth checking out.  It was by far one of the best Artist Alleys that I've seen in awhile.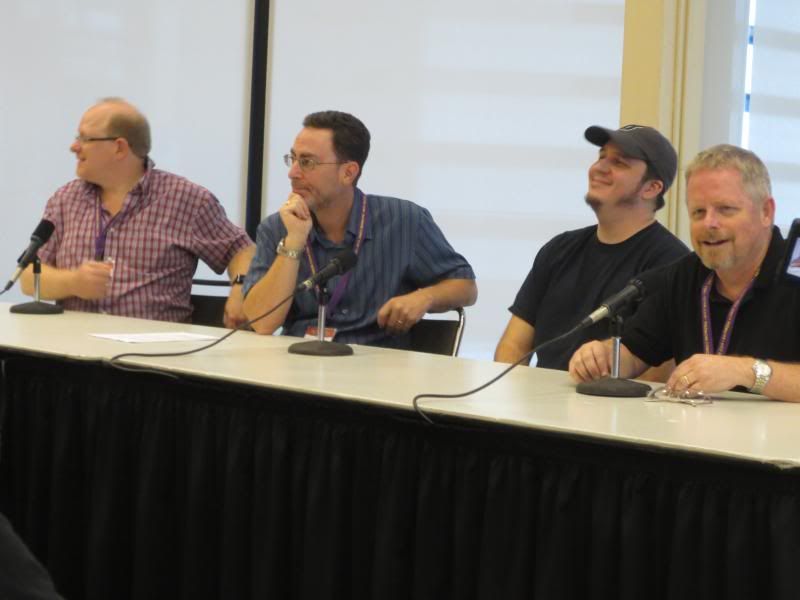 One of the highlights of the show was the Marvel Panel on Saturday feature creators Mark Waid, Mark Bagley, and Ed McGuiness.  Although the creators were slow to trickle in because of delays, it was an absolutely entertaining and enthralling hour.  Waid spoke about beginning his run on Daredevil back in 2011 and his somewhat recently launched run on Indestructible Hulk as a part of Marvel NOW.  He talked about how he approached tackling both titular characters and how boiling each down to their initial essence was key.  Mark Bagley offered an artist's point of view and talked about his long standing partnership with Brian Michael Bendis on Ultimate Spider-Man.  He also happens to be a very funny guy to listen to on a panel.  There was plenty of talk about how comic books are truly a collaborative medium, how longer collaborations create shorthand and trust between a writer and artist, and also how the industry has changed over the years.  All in all, the panel could've easily gone on for twice as long without any chance of boredom.
Of course, it's impossible to discuss any convention without paying homage to the many costumers who are inevitably wandering the floor.  While this show might be quite the costuming spectacle that Dragon Con is, it's certain full of people who clearly just want to have fun.  Costumes range from the incredibly intricate and impressive from experience costumers to just-for-fun first efforts from other con-goers to the range of small adorable children who dressed up for the occasion.
Although some might disagree with me, the best costume of the con by far was this adorable little Lando Calrissian:
Runner up was this adorable take on the X-Wing Pilot uniform!
And with that, I'll leave you with a small selection of some of the other awesome and fun costumes that were at the show this year.
Next year, Baltimore Comic Con will be expanding from a two day show to a three day one and also making use of more of the convention center which should definitely help alleviate the crowding.  It will be September 5-7th, 2014 and I definitely suggest marking your calendar.  I look forward to attending the show again and seeing how they grow and what awesome new creators they will secure as guests for next time.