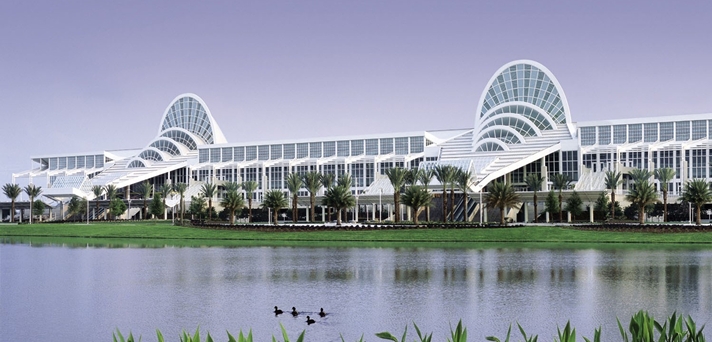 With Celebration Orlando approaching, we're kicking off a series to help you navigate, plan, and prepare for the convention. Nanci and I are residents and have traversed the convention when it's been here in the past. We also know that many of you will be taking the opportunity to extend your stay into a bit of a vacation thanks to the theme parks in the area.
We'll be kicking off this series by taking a look at how you can get from the airport to the convention center, where dine, and what to do for fun outside of the convention. To the jump!
Getting from Orlando International to the Convention Center
Depending on the hotel you're staying at, there may be shuttle transportation available to you. If you're traveling from outside the US, be aware it is customary to tip your shuttle driver. Taxi service is also available if your hotel doesn't provide shuttle service. 
Rental cars are available and plentiful. If you are adding some time before/after Celebration to visit the parks, you may want to consider this option. Universal Studios is about ten minutes from the Convention Center area via car or shuttle, which you can manage without a rental fairly easily. Walt Disney World is further away, making hotel buses heading out that direction a fair amount harder to schedule and manage. If WDW is a part of your stay, a rental car will give you a lot more flexibility on getting to and from.
Of particular note: don't bank on ride sharing services like Lyft and Uber to get you to your hotel. While you can take those services to Orlando International Airport, you cannot be picked up from there.
Dining Options Around the Orange County Convention Center
There's, unfortunately, not much in the direct vicinity.
Within close range of the main batch of hotels (The Hilton, Rosen Centre, Hyatt, and Rosen Plaza) are a Denny's, a Red Lobster, Dunkin Donuts, McDonalds, and an IHOP. Additionally, there is a Walgreens if you want to purchase limited grocery items to take to your hotel. During the convention itself, Celebration has had an indoor food court with a variety of quick service options like pizza, sandwiches, and rice bowls. 
If you're willing to walk a touch further or spend a few dollars on a Lyft or Uber, there is the Pointe Orlando Plaza, which has:
The Capital Grille

The Oceanaire Seafood Room

The Pub Orlando

RA Sushi Bar

Tommy Bahama

Marlow's Tavern

Copper Canyon Grill

Maggiano's Little Italy

Pizza Hut
Up the road a little further is also a Miller's Ale House. If you're looking for a little more entertainment in a gaming flavor, there's a Dave and Buster's as well.
Interesting Dining/Entertainment Options Nearby
There are two big options that provide not only a bunch of dining options, but a lot of fun entertainment and shopping choices. The first is Universal Citywalk, part of the Universal Orlando resort area. Numerous quick service and sit down dining choices are to be had, including the likes of Jimmy Buffet's Margaritaville, Cowfish, and Pat O'Briens. There are also some clubs and entertainment options like Rising Star and mini golf available. Several stores are also accessible at Citywalk, so if you want to get some Harry Potter gear without having to buy a park pass, you're in luck.
With Citywalk, do keep in mind that if you are driving, you will have to pay for parking. Alternatively, you can use ridesharing or hotel transportation to get there.
Fifteen to twenty minutes west of the convention center area is Disney Springs (formerly Downtown Disney). The free-to-access shopping and dining district in the Walt Disney World resort has been extensively overhauled in recent years, so if you haven't been since Celebration VI in 2012, it'll be like you've never been there before. I'm admittedly partial to Disney Springs as I live nearby, but if you can get out this direction during your stay, it's worth your time.
Some dining options I would recommend highly include:
Jock Lindsey's Hangar Bar: An Indiana Jones (yes you read that right) themed bar and lounge with small plates and themed drinks. My personal favorites include the ahi tuna Tanis Tacos and the Wrong Island (Jock's take on a Long Island Iced Tea).

Splitsville: A very agreeable menu where you can sit down, grab a bite, and go bowling while you eat.

Raglan Road: Irish food with live music and dancing

Sprinkles: Cupcakes. Great cupcakes. What more do you need to know? CUPCAKES.

D-luxe: Gourmet burgers and shakes
As this is a Disney resort dining and shopping district, yes, there's lots of shopping to be had. The world's largest Disney store is on hand along with a separate toy store and dedicated Star Wars shop to help fans complete their collections. I've been able to track down action figures that have been hard to locate anywhere else here. You'll also be able to pick up Disney parks exclusive Star Wars merchandise and clothing at Disney Springs, and yes that does include the Her Universe exclusive park collection.
For general fans of Disney is the Marketplace Co-Op, where I'm pretty sure we've bought something like half the art in our house. Beyond that, the newest expansion of Springs has introduced a rather large outdoor mall area, where you can find many of your favorite stores.
Geek Food and Entertainment in the Area
These two options aren't necessarily super closeby, but they are geeky locales I really enjoy and think that if you have time one night, are worth visiting.
Player One Orlando is one of my favorite 21 and older spots. Why? It's a all you can play video game bar. A ten dollar cover charge gets you in to play dozens of free-to-play modern and vintage game consoles, as well as classic arcade cabinets. My favorite? The retro vector graphics Atari Star Wars cabinet. In addition to the games, Player One has a few dozen craft beers on tap. So if you get in a day early and need something to do the night before Celebration? Check Player One out.
If food and drinks are more what you're looking for, about thirty minutes away from the convention center is the Cloak and Blaster. Geek themed food menu, nerdy drinks, board games you can check out. Or bring your own character sheets and dice and play an RPG while enjoying some pretty dang good food. I highly recommend the guinness beef stew in a bread bowl.
Questions? Anything you want us to cover on a future post? Leave a comment!