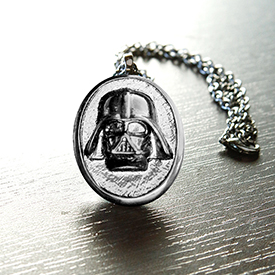 Today Her Universe released a new Darth Vader jewelry collection, designed by Sparkle Factory, the designers of Her Universe's R2-D2-themed "My Hero Collection" that was released earlier this year.
The Darth Vader collection features earrings, necklaces, a bracelet, and a ring, bearing either the likeness of Vader's mask or the Imperial emblem. Each piece is made from black hematite and one necklace incorporates Swarovski crystals as well. You can read more about them here.
The pieces run from $40 to $85 USD and are available for purchase on Her Universe's site.