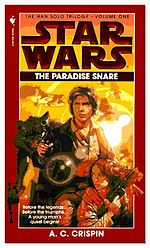 A.C. Crispin, author of the Star Wars Han Solo Trilogy, posted a farewell to her fans yesterday on StarTrek.com.  Ann, who has written for a variety of franchises, including Star Wars, Star Trek, Pirates of the Caribbean, as well as her own original Starbridge universe, made the announcement that her battle with cancer is nearing its end.
Crispin thanked her fans for their support and assured them that she was receiving excellent care, let them know that her husband was collecting messages sent to her, but warned them that she may not have the strength to post to her Facebook or website again.
In addition to being a prolific science-fiction writer, Crispin has also served as the Vice President of the Science Fiction and Fantasy Writers of America, and with colleague Victoria Strauss, founded Writer Beware, a offshoot of SFWA that helps writers avoid publishing scams and assists law enforcement in shutting down criminal activity in the publishing world.  She has also been a leader in ensuring female voices and representation among the science-fiction community.
Ann's Star Wars resume includes the Han Solo trilogy and two short stories, one for both Tales of the Mos Eisley Cantina and Tales from Jabba's Palace.