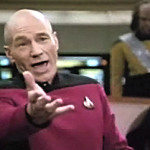 Yeah, we know. Captain Picard has been asking us what's been taking so long to get another installment of Bake It So back to Tosche Station too. Truthfully, it's because I decided to tackle the ultimate Star Wars recipe: ryshcate. It's the dish that started off Corran Horn and Mirax Terrik's courtship, and the dish that celebrates Corellia and all it stands for. It contains the very best of Corellian whiskey. The question has been, though–what exactly is it?
I've tried various recipes. I've made pies. I've considered coffee cakes. I've worked my way through probably three pounds of pecans, and I've tried to figure out how to put genuine Kentucky bourbon into all of it (because what else could be closer to Whyren's?). My friends have happily celebrated the bounty of my experiments. But it wasn't until today that I finally found the happy medium–the pastry between a cake and a pie that would bring everything together. Ladies and gentlemen, Tosche Station's Ryshcate recipe.
This recipe originated on Facebook, going around my friends, so I don't know where it started. I have adapted it from the original recipe somewhat, because personally, I have no intention of going out and buying an entire quart of heavy cream for two tablespoons.
You will need:
For crust:
2 sticks butter
2/3 c. packed brown sugar
2 2/3 c. flour
1/2 tsp. salt
For topping:
1 stick butter
1 c. packed brown sugar
1/3 c. honey
2 tbs. milk
1 tbs. bourbon (optional)
2 c. chopped pecans
Preheat the oven to 350 degrees. Line a 9×13 pan with aluminum foil and spray with cooking spray.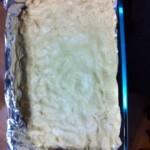 Begin by making the crust. Cream together butter and brown sugar, then add flour and salt until mixture is crumbly. Press into the bottom of the 9×13 pan. Prick the crust with a fork several times. Bake for 20 minutes or until golden brown.
When there are approximately five minutes left on the crust, begin making the topping. Combine butter, brown sugar, honey, milk, and bourbon in a saucepan. Allow butter to melt and ingredients to come together in a smooth mixture; let simmer for one minute, while continuing to stir. Remove from heat and add pecans, stirring to coat pecans in mixture, then immediately pour over crust.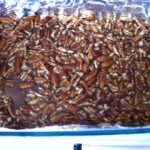 Return pan to oven and bake for 20 more minutes.
Allow the ryshcate to cool completely before cutting.
Now, you know me. I didn't do that. I dug in immediately, because it smelled amazing–but if you want the topping to settle and not be entirely liquid when you cut it, allow it to cool completely before cutting.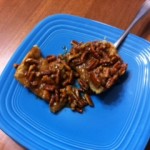 By the way, it was delicious.
Is this what you had in mind when you thought about ryshcate? Let us know in the comments or tweet us at @Tosche_Station.