This weekend is the first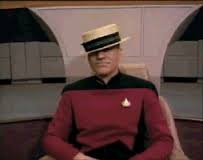 weekend of May, which means it's time for The Race.  You know the one, where all the best line up at Churchill Dow…I mean, Tatooine…and make the run of a lifetime.  And if it happens to be be time for that other race too–the one with the horses and the hats, well, so much the better.
Having discovered that I have been transplanted into a heathen land that knows no such delectable as this particular pie, I bring to you Boonta Eve Podracing Pie (aka Definitely Not Kentucky Derby Pie).  (Also: there are several versions of this recipe out there, and I'm not entirely sure where ours came from.  So if you see one similar, let me know so I can give credit.)
Yo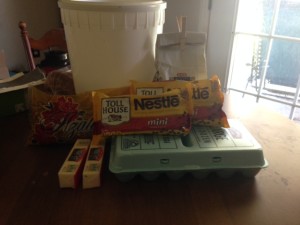 u will need:
1 9-inch deep dish pie shell or 2 9-inch regular pie shells
1 cup sugar
1/2 cup flour
2 eggs
1 stick butter, melted and cooled
1 cup chopped pecans or walnuts
1 cup miniature semi-sweet chocolate chips
1 tsp. vanilla (optional)
1 tbsp. bourbon (optional)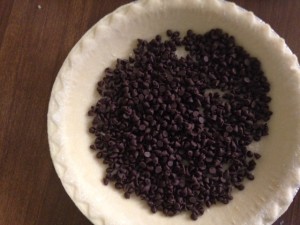 Preheat your oven to 350 degrees.  Laying out your pie shells, layer your chocolate chips evenly across the bottom.  (I used two pie shells for this recipe, as this pie is very rich).
In a mixing bowl, beat eggs together with sugar, flour, and melted butter.  Add vanilla and bourbon, if desired, and mix in nuts.
Carefully put your filling in the pie shell on top of the chocolate chips, doing your best not to dislodge the layer of chocolate chips.  I used a soup ladle for this purpose, as it helped me divide it evenly between my two pies, but if you're using one deep-dish shell, put all of it in.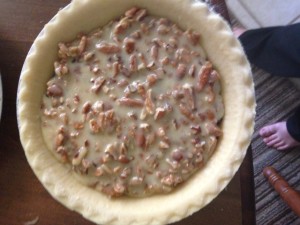 Let your pit droid lick the bowl.  (Note: we do not recommend organic beings consume raw eggs.)
If using a deep-dish pie shell, bake pie for 1 hour or until filling is set.  If using regular pie shells, bake for 30-40 minutes or until the filling is set.
This pie is best served warm with some whipped cream and a mint julep or cold out of the fridge with whipped cream and a mint julep.  Depends on your preference.
The best part of this pie is that it is just as customizable as your podracer.  Not a fan of walnuts or pecans?  Use macadamia nuts, and substitute white chocolate chips for semi-sweet.  Not a fan of nuts at all?  Use butterscotch or peanut butter chips in the same place.  Do make sure that if you are using regular sized chips of any sort, chop them down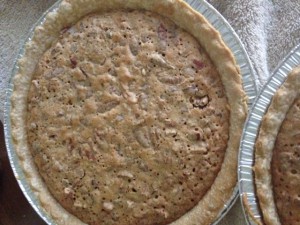 into smaller pieces, as giant chunks of chocolate, while delicious, aren't really Der–Podrace Pie.