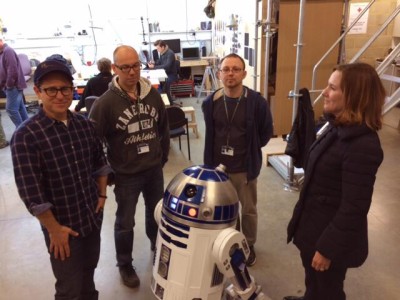 It's not the Big Three, but have some delicious Episode VII confirmation news for your afternoon. R2-D2 is in Episode VII, and this time the droid is a fan-made unit.
"It all started when Kathleen Kennedy toured the R2-D2 Builders area at Celebration Europe this past summer in Germany," says Steeples, who finished his first R2-D2 in 2007, after 10 years of collecting parts and researching. "She posed for pictures with us, looked at all the droids we'd built and was very complimentary. I mentioned that the R2-D2 Builders in the UK were available if required, as a semi-joke. When I was contacted to work on the film by [executive producer] Jason McGatlin, it was on her recommendation."
Now that's just cool.