Character and/or relationship spoilers for several comics lay below. Be warned.
Several months have passed since my last list of excellent comics with excellent queer major characters for excellent younger folk and it seems long over to revisit the topic with three more recommendations! This time, by sheer coincidence, all three comics feature queer women of color.
To the comics!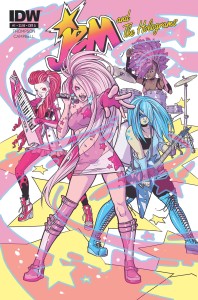 Jem and the Holograms, written by Kelly Thompson with art by Sophie Campbell, is a re-imagining of the 1980's cartoon of the same name and is also, quite simply, a complete blast. The story is about the Holograms, a band formed by a group of foster sisters, one of whom uses holograms projected by their late-father's supercomputer to hind her identity. Not only is the comic colorful and fun with fantastic art by Campbell and not only does it add both racial and body type diversity to the characters, but the comic has multiple queer main characters. One of the major subplots involves the romance between the Holograms' keytarist Kimber and Stormer, the keytarist of the rival band the Misfits. According to the creators Aja, another Holograms member, is bisexual, so we'll hopefully see that brought up in the comic soon. Jem and the Holograms is traditionally published by IDW and there are currently five issues out.
Supercakes, a webcomic by Kat Leyh, follows the everyday lives and relationship of two superhero girlfriends. May Ai, also known as Tank, has super strength while her girlfriend Molly LaMarck, also known as Shift, is a shapeshifter. Together they fight monsters, have family Thanksgiving, and eat pancakes. The art is gorgeous, with beautiful coloring that resembles water colors. And while the comic does primarily focus on the more domestic side of May and Mol's relationship, the action scenes we do see are striking and easy to follow. In addition to May and Mol, May's cousin Spot is intersex and nonbinary. You can read Supercakes online here or you can purchase Yeti Press' collection of the comic so far here.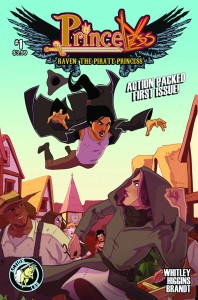 Raven: the Pirate Princess, written by Jeremy Whitley with art by Rosy Higgins and Ted Brandt, follows the adventures of Raven Xingtao, the Black Arrow, as she tries to rebuild her ship and gather a crew to reclaim her father's pirate empire. Or, to put it another way, this is an all-ages comic about a lesbian woman of color pirate and her adventures. While this series did spin-off of the most recent run of Whitley's Princeless comic, which I discussed last time, new readers can pick up the first issue with no problem. The second issue of Raven: The Pirate Princess is, like Princeless, traditionally published by Action Lab. Issue 2 of the comic releases today so you don't need to worry about a backlog of this one quite yet.
Happy reading!