Character and/or relationship spoilers for several comics lay below. Be warned.
A few months ago I shared a few all-ages comics I enjoy that include prominent characters that fall outside of the heterosexual cisgender mold. The list of excellent all-ages media with queer content, while still much shorter than one would hope, continues to grow, and thus I happily find myself writing a part 2 to that recommendation post! Without further ado, here are a few more fun all-ages comics with queer representation.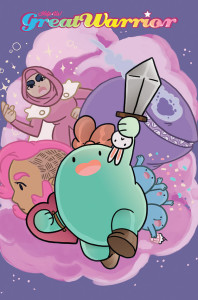 Help Us! Great Warrior, written and illustrated by Madeleine Flores with colors by Trillian Gunn and published by the Boom! Box imprint of Boom! Studios, is a traditionally published comic about the Great Warrior, a green blob with a bow on her head, who really wishes someone else would be asked to save the world from demons. The comic is cute, colorful, and fun and Great Warrior's super strong friend Leo is a transgender woman, something that casually comes up in reference to updating her name on the official Scroll of Heroes. Issue 3 comes out digitally and in stores today, April 8. Though Help Us! Great Warrior originally started as a webcomic that you can read here, the issues published by Boom! Box contain all-new material that forms a linear story rather than reprints of the original episodic strips.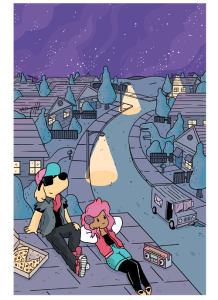 Teen Dog, written, illustrated, and colored by Jake Lawrence, is another traditionally published comic from Boom! Box. It follows Teen Dog, a super cool, super chill teen dog (shocking, I know) as he lives his super cool, super chill high school life. He eats pizza, hangs out with his best friend Mariella, plays basketball against a team of slam-dunking robots, and casually expresses attraction towards guys, even going to prom with one as his date. The eighth and final issue comes out today and a collection of all eight issues scheduled to be released later this year. You can check out preview pages of each issue of the comic on Lawrence's Tumblr.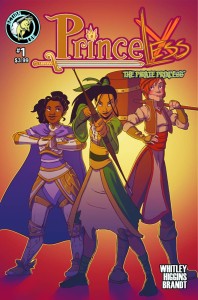 Princeless: The Pirate Princess, written by Jeremy Whitley with art by Rosy Higgins and Ted Brandt, is traditionally published by Action Lab and is volume 3 of the always excellent Princeless series. Princeless follows Princess Adrienne on her quest to rescue her sisters from the towers where they were locked by their father, the extremely controlling and misogynistic King Ashe (and if you're looking for a great all-ages series with a black WoC protagonist I definitely recommend the series). This volume takes a bit of a detour from that quest, focusing instead on Raven, the Pirate Princess, who Adrienne helps escape a tower but who has an agenda of her own. Raven is smart, fast, a deadly good shot with  bow, and a queer woman of color. She's also getting a spin-off series this summer, Raven: The Pirate Princess, the first issue of which is due to be released this July. In the meantime, all four issues of Princeless: The Pirate Princess are available digitally through Comixology and the final issue will be available in print April 22, with a collection coming out in May. The previous two volumes of Princeless are available both digitally and in trade paperback and the first issue of volume 4 of the series is set to be released in June.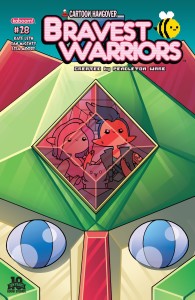 Bravest Warriors, the comic tie-in to the animated webseries of the same name, is a ridiculous and sometimes surprisingly dark science fiction adventure series following the exploits of the Bravest Warriors, renowned teenage heroes. The comic is published by the KaBoom! imprint of Boom! Studios and the current run, which starts with issue 21, is written by Kate Leth and illustrated by Ian McGinty with colors by Lisa Moore. Between the comic and the show, the major recurring character Plum is shown to be attracted to both men and women. A recent arc spanning issues 26 to 28 not only heavily features giant robots–always a plus–but also shows her and another female character, Peach, sharing a very romantic moment and eventually exchanging phone numbers. And this isn't a one-off thing; the current arc shows that neither Peach nor her relationship with Plum are forgotten. Issue 31, the second in the current arc, comes out today, April 8, and while you can easily enjoy the comic with little to no knowledge of the show, seasons 1 and 2 of the Bravest Warriors cartoon are available to view on Cartoon Hangover's YouTube channel with season 3 expected to air sometime this spring.
Remember, these are but a few of a list that that continues to grow. Know some comics that could easily be included? Please let us know in the comments!
Happy reading!