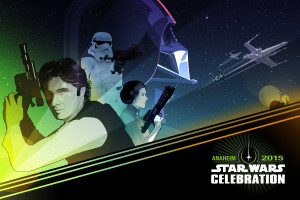 As you may be aware, Tosche Station Radio has been selected to participate on the Celebration Podcast Stage. On Sunday April 19th at 10:30AM, you can head into room 208A to see Nanci, Bria, Sho, and myself record a live show in front of an audience. It'll be a lot like our normal episodes. We'll have the usual intros, highlighting stuff we've posted to the blog, Fixer's Flash, Deak's Dirt, and Camie's Concerns.
For that last segment, though, we're going to change things up a bit: we want you to participate.
Nanci and I have already decided to call this episode A Celebration of You. We want to hear your stories. We want to learn how you became a fan of Star Wars. We want to find out what you'd love to see represented in the Galaxy Far, Far Away. We want to have a conversation with you, listener and Star Wars fan.
Tosche Station Radio has, from the beginning, been a podcast focused on diversity. Diversity in storytelling, diversity in characters, diversity in creators, diversity in fans. We know that there's a huge range of fans out there that don't fit the normal demographic checkboxes. When we sit down on the stage to record this April, our goal is to let your voice be heard.
We look forward to hearing your story. See you at Celebration.
-The Tosche Station Staff