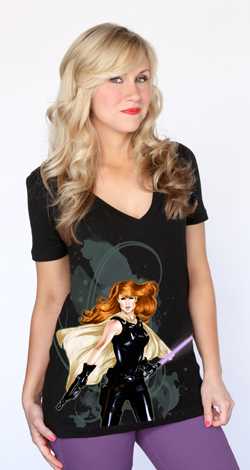 We got a teaser a few weeks ago, but today Her Universe finally revealed its Mara Jade shirt, designed by artist Cat Staggs. The bad news? Only 300 shirts will be available at Star Wars Celebration, and only 50 will be available online. The other bad news? Of course, Mara is wearing her trademark catsuit.
Still, it's a gorgeous shirt (love the v-neck design!) and I'll definitely be trying to get my hands on it. Hopefully it will sell out and Her Universe will produce even more Expanded Universe items; perhaps even Mara in Jedi attire, or Mara and Luke?
Also exclusive to Celebration include an R2-D2 charm. In wider availablity, Her Universe will debut two awesome tanks featuring the Rebel Alliance insignia and Imperial emblem. I will definitely be purchasing the Rebel option.
Read all about Her Universe at Celebration VI here.
Edit: Ashley tweeted me some information about why it's an exclusive design:
We do not have the rights for the SWEU and we had to get special rights just to do this shirt. We are only allowed to make this an exclusive for Celebration. We are also releasing 50 online. I will work on getting the rights for the SWEU but that's why this has to be exclusive.
Thanks for the update, Ashley! I hope the Powers That Be will see how much interest there is for Expanded Universe shirts and allow Her Universe to produce even more.