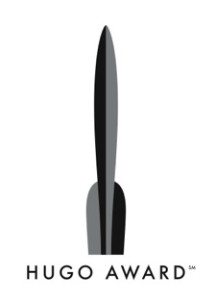 It's that time of year again– the time when my reading list suddenly gets a lot longer. That's right, this year's Hugo Award nominees have been announced!
Included in their ranks is The Dark Between the Stars by Star Wars book alum Kevin J. Anderson, up for the Best Novel award, as is Ancillary Sword by Ann Leckie, the sequel to last year's category winner Ancillary Justice, and Skin Game, the newest entry in Jim Butcher's best selling urban fantasy series The Dresden Files.  Ms. Marvel volume 1: No Normal, introducing the Pakistani-American teenage superhero Kamala Khan to the Marvel universe and written by G. Willow Wilson and illustrated by Adrian Alphona and Jake Wyatt, has made the list of Best Graphic Story nominees, joining Brian K. Vaughan and Fiona Staples' space opera Saga, which won the category's award in 2013, and the first volume of Matt Fraction and Chip Zdarsky's Sex Criminals.
In the Dramatic Presentation categories, it's a good year for superheroes, with both Captain America: The Winter Soldier and Guardians of the Galaxy making the Long Form list and the pilot episode of the CW's The Flash making the Short Form list. Also making the Long Form list are is The Lego Movie and making the Short Form list is the season 2 finale of Orphan Black, "By Means Which Have Never Yet Been Tried."
This year was a record year for nomination participation according to the Hugo Awards' official website, with 2122 ballots cast. You can read the full list of nominees here. The winners of each category will be voted on by the members of Worldcon 2015 and announced at the Hugo Awards Ceremony this August 22 at Sasquan in Spokane, Washington.