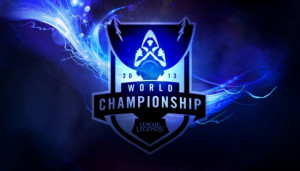 I'm sure that if you've been following the blog for a while, you may have heard me on the podcast once or twice. When I've been on, you've probably heard me say one of the geekiest things you have ever heard anyone say: I watch e-sports.
Let me be clear about this, I don't watch just any e-sport; I watch the League of Legends Championship Series. If you don't know what this game is, if you don't care what it is, that's fine. As I'm writing this, the world championships for the series are currently being played. Teams from all over the world–North America, Europe, Korea, China, Southeast Asia and one team of challengers that made it in from Lithuania–have been playing for a month in Los Angeles leading up to last night. Starting at about midnight EST, 9pm PST, October 4, 2013, the champion picks began, and I watched the game between the finalists get ready to start–SK Telecom T1 from Korea, which came in as a third seed and Club Royal from China.
Again, if you don't care, that's fine, but let me tell you why I think you should.
#Worlds is currently trending on twitter. Riot Games, the maker and promoter of the game, interviewed one of our blog's favorite athletes, NFL punter and all-around nerd and good guy, Chris Kluwe, who bought tickets for his wife and kids to be there for the finals. Chris actually was interviewed for his perspective on the game and the sport for yesterday's game. Over 600,000 people streamed the game live between YouTube, Azubu.tv and Twitch in the US alone. First place in this tournament won $1,000,000 and the total prize for the World Series was $2,000,000. That doesn't count the money that players make from ads on streaming or endorsements. I said endorsements. My favorite team, Team Solo Mid, is currently operating with an endorsement from Qualcomm, the makers of Snapdragon mobile processors.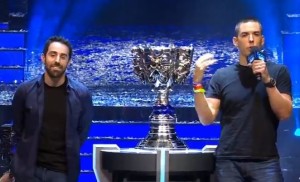 And aside from this pile of insanity over watching ten young men play a videogame, there is this. Forbes has published an article about the finals. While most of the buildup for the final match has been played in smaller venues, this last set of games is being played in the Staples Center. To be fair, it's set up concert style, so it's not full like it would be for your average Lakers or Clippers game, but in an arena that normally holds 15,000 people, but a sold out 13,000 is an insane number of people for a video game, isn't it? But the real kicker is this. Forbes is reporting that this matchup sold out in under an hour, breaking the unofficial record for fastest sellout for a live event. In addition to streaming at home, Riot showed footage during the night of people watching the game in pubs, bars, cafeterias, and lobbies from London to Sydney and everywhere in between. And by the way, American Express is running a promotion with Riot Games right now, selling a League of Legends card. That's a thing.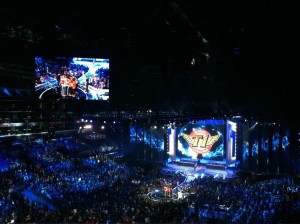 More than half a million people in the US watched Korea take the world championship in three straight games last night; hundreds of thousands more are watching the broadcast today—and these games never saw a television airwave.
Professional gaming has been around for better than a decade now, with some of the biggest events coming out of Korea under games like Starcraft or in the west with Call of Duty. Korea's been no stranger to the phenomenon of selling out venues to watch two men play a computer game. But League is bringing a new experience to both professional gaming and the United States. Riot has been working with the US government to get players athletic visas the same way MLB might get a Japanese player one. These developments lead me to ask one question.
Could e-sports actually become a legitimate spectator sport in the United States?
It certainly looks like it's going that way.
And by the way, for those of you that are curious, SKT T1 of Korea won the cup after three consecutive wins in a best of five series.